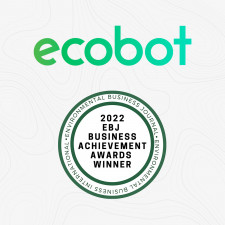 ASHEVILLE, N.C., February 16, 2023 (Newswire.com) - Ecobot, the premier digital solution for mandatory pre-construction assessments, has received a 2022 Business Achievement Award for Information Technology from Environmental Business Journal® (EBJ). EBJ is an independent business research publication that provides strategic market intelligence to the environmental industry.
"In a rather tumultuous year of economic ups and downs in 2022, a number of companies set themselves apart with performance, transactions, or projects that merit special consideration," said Grant Ferrier, editor of Environmental Business Journal and chair of the selection committee. "Ecobot's growth since its inception has been impressive. Its grasp of the environmental industry and the varied demands of its numerous client segments are noteworthy."
Ecobot was recognized for expansions that were released in 2022, including the addition of new features and integrations to Ecobot Manager, the desktop component of the platform, such as integration with Esri ArcGIS Online, advanced project management and team collaboration capabilities, and tools to support mitigation banking and site monitoring. EBJ featured a Q&A with Ecobot CEO and cofounder Lee Lance in Volume 35, released in September 2022.
"It's an honor to be recognized by an organization with such deep knowledge of our industry," said Lee Lance, cofounder and CEO of Ecobot. "This award is a testament to how Ecobot has grown and where we're headed."
Ecobot will be present to receive the award at the 2022 EBJ Business Achievement Awards banquet at Environmental Industry Summit XXI on March 22-24, 2023, in San Diego.
About Ecobot
Ecobot is a cloud-based platform that supports efficiency by optimizing data collection and management for environmental permits, and enables customers to utilize data in a variety of contexts. Ecobot helps customers deliver data consistency across a distributed workforce, and enables them to leverage field data for improvements to the construction lifecycle. See how Ecobot can transform your pre-construction permitting workflow at ecobot.com.

About Environmental Business Journal
Environmental Business Journal (EBJ) has been published since 1988 by Environmental Business International Inc., an independent research and publishing company focused on the environmental and climate change industries. EBJ provides strategic market intelligence to executives and investors in 13 business segments of the environmental industry, including environmental consulting & engineering, remediation & industrial services, water & wastewater equipment, air quality & pollution control equipment, hazardous waste management, resource recovery, solid waste management, water/wastewater infrastructure, renewable energy and environmental instrumentation & information systems.
Source: Ecobot, Inc.
Share: