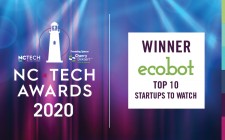 ASHEVILLE, N.C., October 21, 2020 (Newswire.com) - Ecobot, the developer of transformative environmental data reporting software, announced today it has been named one of North Carolina's Top 10 Startups to Watch by the North Carolina Technology Association. The NC Tech Awards, North Carolina's statewide technology awards program, recognizes companies, organizations and individuals for their achievement, innovation and leadership throughout the year.
"North Carolina is a great hub for technology startups," says the company's CEO and co-founder Lee Lance. "We're honored to be one of 10 winners selected to receive this recognition." "There's a reason why our fund focus is investing in North Carolina technology companies," says Tim McLoughlin, Partner at Cofounders Capital. "We have tremendous deal flow and are fortunate to get to work with companies like Ecobot."
Winners were chosen in a two-stage review process, led by the accounting firm Cherry Bekaert, in partnership with an independent selection committee. The awards process culminates with the NC TECH Virtual Awards at three broadcasts beginning at 4 p.m. each day on Nov. 17, 18 and 19.
About Ecobot
Ecobot empowers the AEC and environmental consulting industry to better serve their clients by reducing the time and expenses required to complete environmental regulatory reporting. The field scientists in these industries make critical decisions that inform land use and Ecobot's wetland management platform provides accuracy and efficiency for thousands of wetland delineation reports submitted to the USACE each month. See how Ecobot can transform your natural resources consulting workflow at ecobotapp.com.
Source: Ecobot, Inc.
Share: