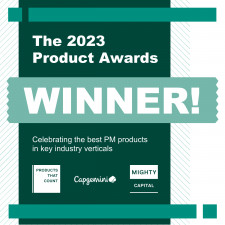 Construction Software Company Ecobot Named Top Product in 2023 Product Awards
ASHEVILLE, N.C., March 9, 2023 (Newswire.com) - Ecobot, the premier digital solution for mandatory pre-construction assessments, has been named a Top B2B Tech product in the 2023 Product Awards. The Product Awards, presented by Products That Count in partnership with Mighty Capital and Capgemini, is the only award designed to celebrate the tools that help Product Managers build great products.
"The bar for what makes a great product gets higher every year," said SC Moatti, founding CEO of Products That Count. "Ecobot is a testament to that. We expect them to keep defining what it means to be at the cutting edge of product, not only in 2023 but also in the years to come."
Nominees are chosen by Products That Count's product manager network, and winners are chosen by an independent Awards Advisory Board composed of top product leaders. This year's Board included product leaders from companies like Intuit, Oscar Health, and Macy's.
"Our build-measure-learn lean start-up approach to product management, combined with Ecobot's foundation of deep industry knowledge and involvement, have propelled the platform into position as the environmental service industry's preferred tool for mandatory pre-construction assessments and permitting," said Liv Haney, Product Manager at Ecobot, who formerly used the platform as a field scientist before joining the company. "The whole Ecobot team appreciates this recognition from Products That Count, and we're so proud of our contributions to the environmental services industry."
The award from Products That Count is Ecobot's second accolade in Q1 of 2023. In February, the company was recognized by the Environmental Business Journal with a 2022 Business Achievement Award.
About Ecobot
Ecobot is a cloud-based platform that supports efficiency by optimizing data collection and management for environmental permits and enables customers to utilize data in a variety of contexts. Ecobot helps customers deliver data consistency across a distributed workforce and enables them to leverage field data for improvements to the construction lifecycle. See how Ecobot can transform your pre-construction permitting workflow at ecobot.com.
About The Product Awards
The Product Awards, produced by Products That Count in partnership with Capgemini and Mighty Capital, celebrate the best products for product managers, chosen by product leaders. Based on insights from thousands of product managers, the Product Awards showcase product managers' favorite products within five distinct categories: B2B Tech, FinTech, Internet of Things, Life Sciences, and Sustainability. These categories were defined by our independent Awards Advisory Board, 12 product leaders committed to pushing forward the product conversation. Learn more at www.productsthatcount.com/product-awards.
Source: Ecobot, Inc.
Share: